For purchase inquiries of the original pieces, or questions...
Email: edrutowskiart@gmail.com
or DM on Instagram.


I've realized I really am lost after all. It's difficult to see the moon through the pine branches and dense clouds overhead. I hear something moving in the leaves behind me…
I'm suddenly awake as the house trembles with the thunder clap and rain pounding the roof above me. I make my way through the darkened hallway, go outside, and sit in one of our chairs beneath the protective canopy of the old Japanese maple.
The rain feels deafening and forms a thick cylindrical wall all around me, as I slowly feel myself descending into, one of the places in between.
---
Ed Rutowski is a fine artist, concentrating in painting and drawing, living in the Grand Rapids, MI area. He earned his BFA degree through studies at Grand Rapids Community College and School of the Art Institute of Chicago.
He has exhibited work in regional and national juried exhibitions and galleries, and has work in corporate collections and multiple private collections.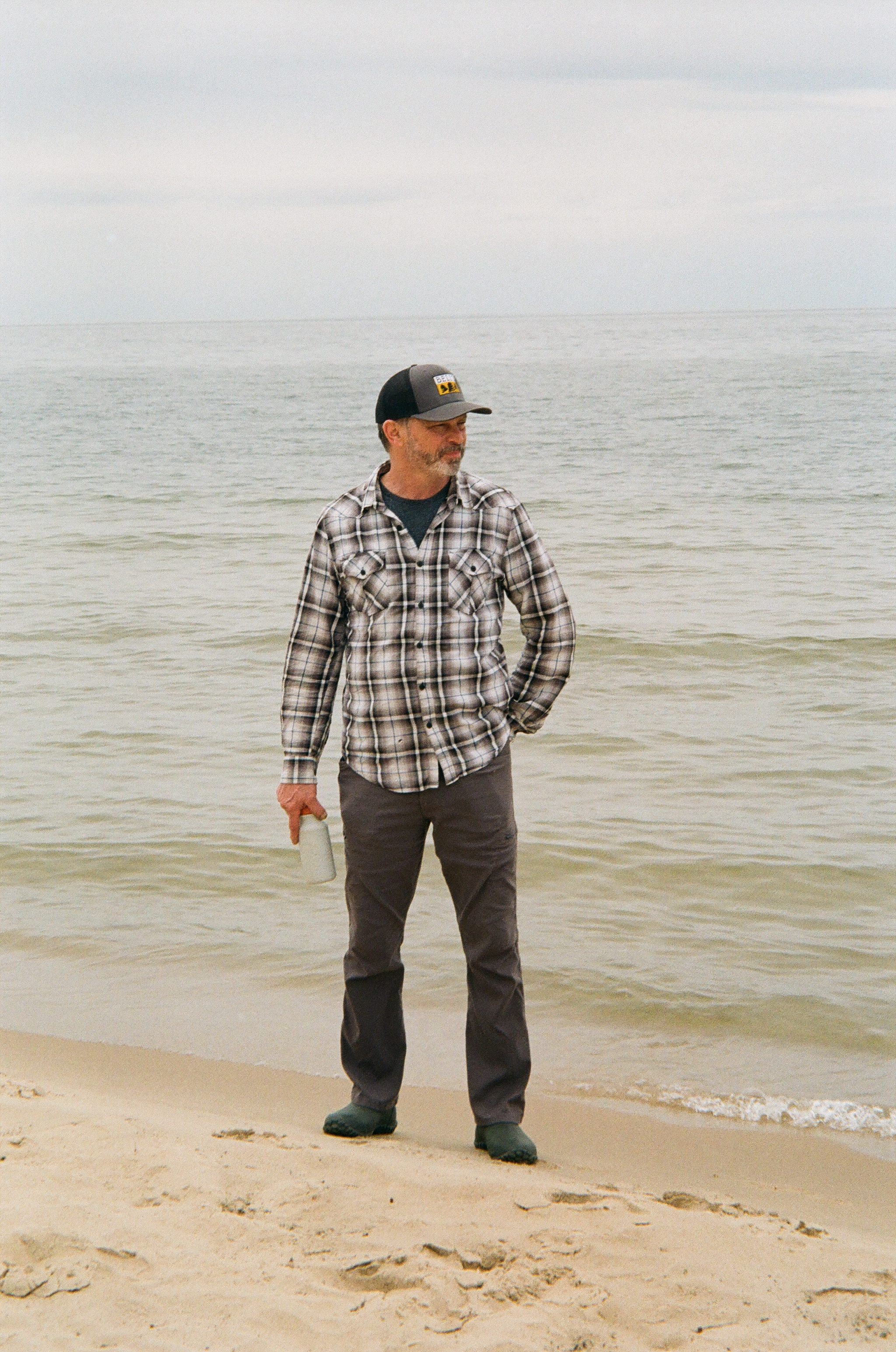 GROUP EXHIBITIONS
2023 'Grand Rapids Festival of the Arts Fine Arts Competition', Grand Rapids, MI

2023 '37th Annual Lowell Arts West Michigan Arts Competition, Lowell, MI

2022 ' West Michigan Area Show', Kalamazoo Institute of Arts, Kalamazoo, MI

2006 ' The ICON Show', Hudson Street Gallery,
Lowell Area Arts Council, Lowell, MI

2006 ' Mindshare- Chair-ity for the Arts'
Urban Institute of Contemporary Arts, Grand Rapids, MI

2005 ' Opening Exhibition' ByrneBoehm Gallery, Grand Rapids, MI

2004 ' Celebration, 31st Annual Juried Competition. Juried by John Hrehov
First United Methodist Church, Grand Rapids, MI

2003 'Myth Representation'. Juried by Robin VanRooyen
Grand Rapids Community College Art Gallery, Grand Rapids, MI

2003 ' Islands in a Stream'. National Juried Exhibition. Juried by Ruth Crnkovich. Union Street Gallery, Chicago Heights, IL

2001 ' Mighty Midwest Biennial' Juried exhibition. Juried by Michele Rowe-Shields. New Visions Gallery, Marshfield, WI

2001 '14th Annual ARTstravaganza'. National juried exhibition, Juried by Michael Lash, Hunter Museum of American Art, Chattanooga, TN
Honorable Mention Prize Award.

2000 'National Drawing and Print Exhibition 2000'. Juried by John Heintzman. Bloomingdale Museum, Bloomingdale, IL

2000 'Celebration' 27th Annual Juried Competition. Juried by Richard Janis
First United Methodist Church, Grand Rapids, MI

1999 '12th Northern National Art Competition. Juried by Christopher Brown.
LRC Gallery, Nicolet College, Rhinelander, WI

1999 'A Public Hanging' . Urban Institute of Contemporary Art. Grand Rapids, MI

1998 'Faculty and Friends Show'. The New Gallery at The New School Academy of Fine Art, Grand Rapids, MI

1998 ' Regional V', Juried by Leisa Rundquist, ARC Gallery, Chicago, IL

1998 'Celebration', 25th Annual Juried Competition. Juried by Delbert Michel
First United Methodist Church, Grand Rapids, MI

1997 'Faculty and Friends Show'. The New Gallery at The New School Academy of Fine Art, Grand Rapids, MI

1997 'Personal Visions V'. Juried by Chicago Imagist artist Gladys Nilsson.
An Art Place Gallery, Chicago, IL

1997 'Works on or of Paper'. Juried by Chicago artist Rodney Carswell.
Riverside Arts Center, Riverside, IL

1996 '31st Annual Open Exhibition. Juried by Elizabeth A.T. Smith.
The Fine Arts Institute of the San Bernadino County Museum, Redlands, CA

1996 'Art in Process, Process in Art'. Exhibition of selected artists. Curated by Eulalio Fabie de Silva, North Lakeside Cultural Center, Chicago, IL

1996 'Figurative Abstraction'. Juried by Chicago Imagist artist Ed Paschke.
The Fine Arts Building Gallery, Chicago, IL

1996 '2nd Annual National Juried Pastel Competition'. Juried by Tony Phillips and Jennifer Hereth. Lafond Galleries, Pittsburgh, PA

1996 'Art of Diversity II'. National Juried Exhibition. Juried by Chicago artist
Susanna Coffey. An Art Place Gallery. Chicago, IL

1996 'Salon Show 1996'. North Lakeside Cultural Center, Chicago, IL

1995 '19th Annual Alice and Arthur Baer Art Competition and Exhibition'
Juried by Hamza Walker and Deborah Wilk. Beverly Art Center, Chicago, IL

1995 'Multiperspectives III'. Juried by Chicago Imagist artist, Ray Yoshida.
An Art Place Gallery, Chicago,, IL

1995 '20th Annual Hyde Park Art Center Members Show'.
Hyde Park Art Center, Chicago, IL

1995 'Group Show'. Mental Floss Gallery, Chicago, IL

1994 'Support Your Local Artist Show'. Art Attack Gallery, Chicago, IL

1994 'French Music and Fine Art Paintings'. Recital, Exhibition and Reception. Three Arts Club, Chicago, IL

1994 'The 50/50 Show'. Urban Art Retreat Gallery, Chicago, IL

1994 '19th Annual Hyde Park Art Center Members Show'
Hyde Park Art Center, Chicago, IL

1994 'Bubotto' Salons; I,II, and III(featured artist), Elgin, IL

1994 '10,000 Plus'. Alumni Board Room
The School of the Art Institute of Chicago, Chicago, IL

1994 'Ancient Influences'. North Lakeside Cultural Center, Chicago, IL

1994 'Salon Show 1994'. North Lakeside Cultural Center, Chicago, IL

1993 '17th Annual Alice and Arthur Baer Art Competition and Exhibition'.
Juried by Daniel Schulman and Laura Hoptman, Beverly Art Center, Chicago

1993 'Group Exhibition'. Contemporary Art Workshop, Chicago, IL


SOLO EXHIBITIONS

2011 'The Fine Art and Fine Dining Show.
Amore Trattoria Ristorante, Grand Rapids, MI

2007 'Abstract Wanderings'. Dual show with Janet Teunis.
ByrneBoehm Gallery, Grand Rapids, MI

1999 'The Weird Tales Show, Unreal Stories Of Reality'. The New Gallery at The New School Academy Of Fine Art. Grand Rapids, MI

1997 'The Strange but True Show', Jay Wellington Gallery, Grand Rapids, MI


OTHER PROJECTS

1997,1998,1999,2000. Co- organized and Co- jurored 'The Scratch-N-Sniff Show'. National Juried Fine Art Competition.
The New Gallery at The New School Academy of Fine Art, Grand Rapids, MI.
Final year show held at Room 222 Gallery, Grand Rapids, MI


CORPORATE COLLECTIONS

Holland Hospital Walk-in Care Clinic
8300 West Park Way, Zeeland MI, 49464

Vista IT Group
5282 East Paris Ave SE
Grand Rapids, MI 49512